Who is Jesse Mullins?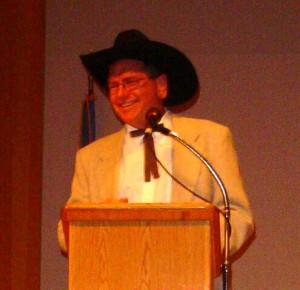 Currently in the process of advancing some personal writing projects as well as editing PBOG Magazine, a $1MM monthly published by Zachry Publications, Jesse Mullins is a widely published communicator whose contributions span a broad array of themes. Social commentary, cultural affairs, news reportage, Christian commentary, Bible interpretation, and political punditry are just a few of his journalistic pursuits. His essays, personality profiles, and editorials have won him a following as an observer of human affairs, current events, art, letters, and culture—especially in the field of the American West and the cowboy tradition. He is also co-owner, with his wife, Kit, of the fast-growing, cutting-edge digital agency known as Jemully Media.
A reporter and freelance writer in the early years of his career, he was founding editor and Editor-in-Chief of the award-winning American Cowboy magazine from its conception 21 years ago (1994) to 2009.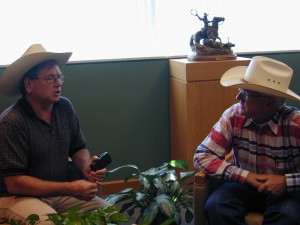 During his tenure the magazine rose to become the highest-circulated publication in the Western lifestyle field, attaining a nationwide and even international readership that totaled 250,000. (Anyone wishing to peruse back issues of the magazine can access them for free at this webpage.) His "Put a Cowboy in the White House" campaign – promoted via editorials, a dedicated website, bumper stickers and other media – won favorable attention across the country. Mullins' opinion writing has been featured on Townhall.com, the most highly trafficked political website in the country, and his journalism and other writings are searchable on the web. In 2006 he was awarded the Will Rogers Communicator Award from the Will Rogers Memorial Commission. The award "recognizes the virtues, the values, and the consummate skills of individuals with rare talents to uplift and to inspire," according to Commission chairman Jim Hartz, former NBC anchorman.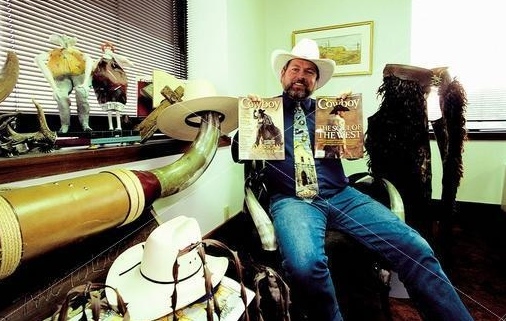 Under Mullins' editorial guidance, the magazine helped advance various charitable and public-minded causes as well, including the North American Riding for the Handicapped Association and the Boy Scouts of America.
Along the way, the magazine obtained interviews with leading public figures in the fields of politics, entertainment, industry, and private life, including U.S. Senators, governors, and cabinet members. Tom Selleck, Sam Elliott, Charlton Heston, Chuck Norris, George Strait, Reba McEntire, Roy Rogers, Gene Autry, Ken Burns, Nolan Ryan – these and others have shared their stories in American Cowboy's pages, as have motion picture directors and producers, billionaires, busted-up rodeo clowns, down-on-their-luck daywork cowboys, bestselling novelists, and wild cow catchers.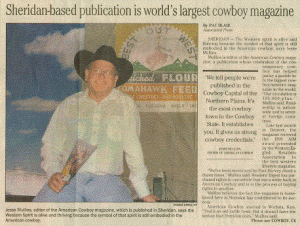 In 2004, Mullins and the person who was then-publisher of his magazine—William E. Bales—began work on a project that eventually became the National Day of the American Cowboy. The U.S. Senate-sponsored resolution gained passage in 2005 and was signed into effect by President George W. Bush in 2005.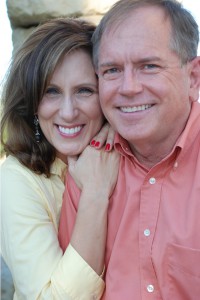 Mullins has lived in Abilene, Texas, since 2008, when he wedded the former Kit Lawson and made his home with her in that West Texas city that was her hometown. They each have three children from previous marriages. Prior to that, he lived for 9 years in The Colony, Texas, a suburb of Dallas. Through his mother, Mullins is descended from a prominent line of preachers—the Lemmons family of Arkansas, a family that produced Reuel Lemmons and other notable soldiers of the faith. Though he is not a minister himself, Mullins has filled the pulpit some two dozen times and has taught several Bible classes.
Raised in Oklahoma, he attended Oklahoma State University, where he earned a Bachelor of Science in Wildlife Ecology and a Master of Arts in English. All three of his children were adoptees, each of them having come up for adoption in early elementary or preschool years, and all are now grown and making their way in the world.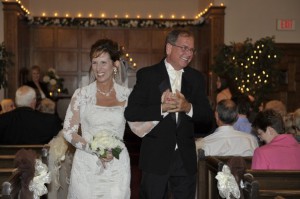 The author, who was raised in a Christian family, is currently a member of the University Church of Christ, in Abilene. He was for 9 years a member of Rockhill Church of Christ, Frisco, Texas.
~
For a sampling of some choice bits from Mullins' cowboy editing/writing life thus far, click here. This material bore the tongue-in-cheek title,"A Christian Writer's UnChristian Writings," when it was featured in a recent edition of his e-newsletter.
SOME CAREER HIGHLIGHTS
Recipient of the Spirit of the West Award (conferred July 21, 2009) in Ogden, Utah, during the Ogden Pioneer Days Rodeo. The award was for role in creating the National Day of the American Cowboy.
Recipient of the Will Rogers Communicator Award from the Will Rogers Memorial Commission. To see something about the award, visit this link: http://www.willrogers.com/new/articles/cowboy_day/award/mullins.html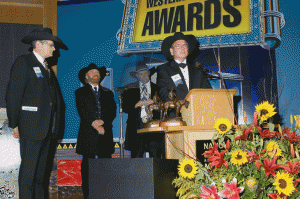 American Cowboy magazine won the Aim Award for best magazine in the Western lifestyle field and the Western Heritage Award for best national magazine article of the year. Motion picture actor Sam Elliott emceed the Western Heritage event at the National Cowboy and Western Heritage Museum.
Gave keynote speech before the regional convention of the National Association of Newspaper Columnists, February 2007, in Oklahoma City. Was recommended for that speaking engagement by Jim Hartz (see mention above). For more on the occasion, see this URL: http://home.earthlink.net/~bobhaught/willrogerswriter
Assisted Paul Harvey on a special commentary he did on The Great American Cattle Drive.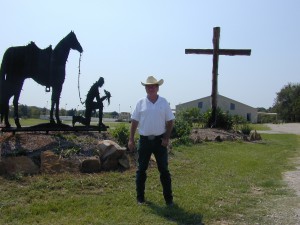 Editorial chosen as the featured (lead) opinion piece of the day on Townhall.com, the Heritage Foundation's website that is the most heavily trafficked site for political commentary on the internet.
Heartland USA magazine, circulation 1 million, gave cover story treatment to profile of Sam Elliott, which had run as a cover story for American Cowboy. They did likewise with profile of Tom Selleck.
Reader's Digest bought reprint rights to a couple of stories American Cowboy published, and dispatched its own team to cover yet another story AC was the first to run.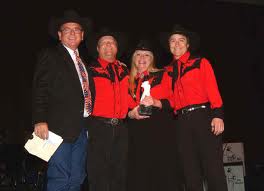 "Up from the Ashes" appeared in the January 2012 issue as the cover story for the highest-circulated magazine published in Texas – Texas Co-op Power – which reaches more than one million households. This marked the second story sold to that periodical, and second cover story.