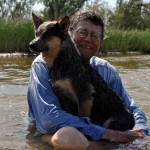 This discussion is a sidebar to an in-depth personality profile of author John R. Erickson, creator of the "Hank the Cowdog" series of books and audios. Click here to be taken to the profile. If you have arrived here from the profile, or are following up on a search query, please read on:
John R. Erickson, in Story Craft:
"I am alarmed by the slide of American popular culture toward things that are coarse, ugly, violent, self-directed, obscene, profane, visual, and non-rational, and by a parallel development that we might call the 'Santa-Clausation' of culture—the detachment of an event (the birth of Christ) or a creative endeavor (books, movies, music) from the spiritual and historical sources that give them meaning. It is no accident, I think, that we find these two developments side-by-side at this point in history.
"A good deal of popular culture is offensive to me," he continues. "Some of it strikes me as poisonous, and since I'm in the business of producing cultural material and have spent quite a bit of time trying to protect it, another voice in my head whispers that maybe I should talk about this. As a writer I am convinced by the evidence that a purely secular worldview will poison art at its roots, and without roots it won't survive."  (pp. 3-4)
"When novelists and screenwriters stop telling stories and 'go to preaching,' Christian literature shrinks down to one book, and we surrender our national culture to people who don't read it. We need both preachers and storytellers, but not in the same place and the same time. If we have any hope of influencing popular culture, our stories must compete in a secular marketplace and win, and that means we have to master story craft and produce better stories than the competition." (p. 111)
To return to your place in the main text, simply press your browser's back button (or arrow).
To access (from its beginning) the profile of "Hank the Cowdog" creator John R. Erickson, go here.

Leave a Reply
You must be logged in to post a comment.